Sorry if I haven't been really blogging, I want to blame it on Facebook's applications Pet Society and Yoville, Its so addicting when you start playing it, I also admit that I still am like a kid at heart I still love playing games.
PET SOCIETY by PLAYFISH- In the world of Pet Society you and your pet can have a great time! You can play games, decorate your house and even bring gifts for your friends when you visit them. You can enjoy many different games and activities in Pet Society, playing ball, jumping with your skipping rope or going on treasure hunts for coins in the city. For those who like to compete you can take part in contests against other pets at the Pet Stadium! In Pet Society you can customise your pet any way you want through colours, clothes and fun items like watches and jewellery. You can also decorare your pet's house with furniture and even show off the various awards you have won in the mini-games.
So far I only have 4 rooms and as Paw Points gain new features and more items will become available like more rooms to decorate and a lot more.

ROOM#1 BEDROOM
I decorated it with my favorite color of course pink and hearts.
The toys on the shelf are from the MYSTERY Fairytale eggs.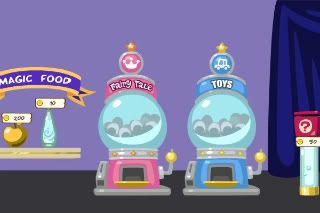 I actually took some time just to collect them all. You don't know what's inside that's why they called it mystery and it costs 350 coins each so I had to buy so many just to get them all.
I also like buying mystery boxes. You can buy it for 50, 200 and 500. I like the 500 the best because the stuffs you get inside are really nice, if you buy it in the store it's twice or 3x as much and the best ones are rare, something you cannot buy in the store and if you sell it is 999 so you earned more coins.
Lady Miko sleeping on the bed.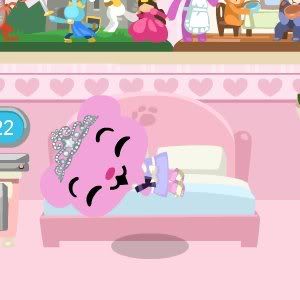 ROOM#2 DINING ROOM/KITCHEN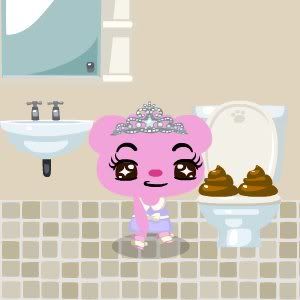 If you don't give your pet a bath they will poo, I got 3 but accidentally clicked on 1 so it disappeared and just earned 1 coin for it but I'm saving 2 for display. Lol!

ROOM#4 GARDEN
I got the piano and guitar also from the expensive mystery boxes and others are from the furniture, gadget and food. I decided to decorate it with a themed of Cinco De Mayo, a Fiesta is going on in my garden complete with a papel picado banner, balloons that I got from the cheap mystery boxes and some guacamole dip, tamale, chips in a colorful bowl and lime juice or margarita with a bottle of salt. A cactus, maraca decor and from the gadget charcoal bbq grill (makes me want to have some bbq) and I'm buying a pinata soon!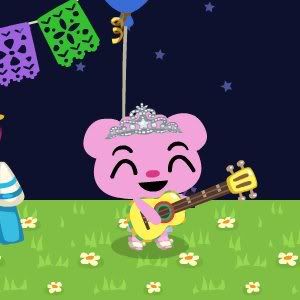 Lady Miko playing guitar

I'll blog about yoville some other time.
UPDATED MAY 12, 2009
Finally after playing for long hours and days.
MY PET SOCIETY DECORATED HOME
5 ROOMS