It's Inauguration Day today and Benigno "Noynoy" Aquino III became the 15th Philippine President.
Benigno Aquino III was sworn as the official president of the Philippines. Benigno Aquino promises to deliver from poverty and pervasive corruption.
Hundreds of thousands of Filipinos clad in his yellow campaign color, applauded and yelled his nickname "Noynoy" as Aquino took his oath before a Supreme Court justice at the Quirino Grandstand.
Vice President Jejomar Binay was sworn in before Aquino took his oath in the nationally televised ceremonies that resembled a music concert, with celebrity singers and an orchestra belting out nationalist and folk songs. Yellow confetti rained from two helicopters. Benigno Aquino promised to fight corruption, particularly in the notoriously graft-ridden bureaus of customs and internal revenues. He pledged to bring a new era of good governance, reforms and a bureaucracy that will be sensitive to the plight of the common folk.
"Today our dreams start to become a reality," Aquino said. "It's the end of a leadership that has long been insensitive to the suffering of the people."


The Twilight Saga Eclipse is also showing today and I really want to watch it now, but my husband likes watching it after weeks it has been showing, so there are not a lot of people watching anymore but I hate that they are already talking about it, and I still have not seen it argh

so instead we watched
But with no regrets, 'Toy Story 3′ was awesome, is a funny, touching and most excellent farewell to the characters we've come to know and love.
Toy Story 3 opens in a similar vein to the previous film, but this time Woody (Tom Hanks) is the hero of the imaginary adventure. We're in the old west and he's trying to save a train full of orphans that has been hijacked by the evil Mr. and Mrs. Potato Head. Right from the opening minutes the film will put a smile on your face and please you with surprises.
There's a sweet montage right after that which shows Andy (owner of our little group of friends) on videotape as we remember him from the previous films, playing with and loving his favorite toys.We see him grow up a bit, and now he's 17 years old and days away from leaving for college. Our gang hasn't seen much play action, spending who knows how many years now closed up in an old toy chest.
Well with Andy leaving, mom wants to clean things up and Andy has to decide what to take with him, what to throw away, donate or put up in the attic for storage. Except for Woody and Buzz (Tim Allen), the toys are freaking out thinking they're headed for the city dump. While of course they weren't headed that way, some confusion ensues and they do indeed end up at the curb. Woody rescues them and tries to tell them it was a mistake, but they're all convinced that Andy was trying to get rid of them.
Hiding in a box meant for toy donations to a local daycare center, they believe they've found a new home where there will be an endless supply of young children to play with them forever and they'll never be outgrown. They're welcomed by the veteran toys, led by Lots-o'-Huggin' Bear (he smells like strawberries!). He (Ned Beatty) welcomes them, explains what a wonderful place they've found and shows them where they'll be living. Turns out they've been placed with children too young for them and they are battered mercilessly by rough play. Eventually they come to find that this isn't a paradise, but a prison. Woody leaves prior to this discovery, and of course the rest of the film is dedicated to setting everyone free and getting back to Andy's house whether he wants them or not.
I want a Strawberry

Scented, Pink and Fluffy, Mean but huggable Lots-O-Huggin Bear.

Dining at Krispy Kreme




Lots of Cute Designs of erasers to Choose from and Collect




Its 10% on SM Department store if you have a SM Advantage Card and surprisingly I did not buy anything for me, many stuffs for my kids as they are now fond of Toy Story novelties.
aside from Toy Story, Ethan also loves BEN 10
This is actually SHELL GAS STATION, toys that you can buy for P80 when you get gas.

Woody is so expensive for P2,500 but Niko wants it so badly.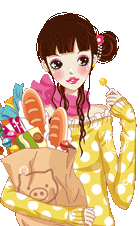 We also went grocery shopping today.