It was my first time to go to Boracay so it was an exciting vacation for me, I always dreamed of going to Bora and finally a dream come true.
My BOARDING PASS

Kalibo International Airport is an airport that serves the general area of Kalibo, the capital of the province of Aklan in the Philippines.Kalibo Airport - From Manila to Kalibo the flight time is just 40 minutes, although an additional travel time of 1 hour is added to your trip as you will need to travel to Caticlan to board the banca boat that will take you to Boracay Island.
We had no choice because Caticlan Airport was closed due to strong wind,
Caticlan Airport offers the shortest flights to Boracay from Manila. The Caticlan Airport is located just a 5 minute ride from the jetty port, where the banca boats
that are used to take you to Boracay, reside.
I LOVE

BORACAY

We stayed at Boracay Mandarin Island Hotel
A Welcome Complimentary Lemonade Drink

Souvenir Flip Flops

A nice private jacuzzi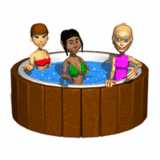 Heart shaped bath tub
Comfortable bed for a more relaxing and to give you sweet dreams
Yummy snacks compliment of Boracay Mandarin Island Hotel
They got everything you need.
Discover all that Boracay has to offer with Boracay Mandarin Island Hotel as a base. This 4 star hotel are equipped with Air Conditioning, Bathrobes, Bath and Beach Towels, Toiletries, Desk, Hair Dryer, Internet Access (Wireless). Complimentary Delicious Breakfast Buffet.
We experienced the high standards of comfort while staying at this luxury Boracay Hotel with everything we need right on the site such as 24 hours room service, elevator, bar.Our stay was more enjoyable taking advantage of the pool, spa and jacuzzi inside the room.
with all the friendly staff, our stay was wonderful.
I would highly recommend Boracay Mandarin Island Hotel.
I GIVE 5 OUT OF 5 HUGGING STARS:





PHOTO CREDIT to: Arlene Rivera- Thank you Ate Ghie for making this vacation possible.