I was very happy for this day to come, I went with my classmate from highschool who is a very good friend of mine, we share so much common things way back, she is so much like me that loves to go shopping, I remember her telling me that she had a dream us going shopping together so this is it, a dream come true! I was very excited my heart was going thump thump,we left the house at 8:45 in the morning so we can be the first ones to choose. I have so much fun having someone like me who is a shopaholic to go shopping like these, we were laughing how crazy we were because they keep restocking every minute and in just seconds the good ones are gone, so you really have to be aggressive, we just get three of each items that are pretty and asked each other if we want it, some we ended buying the same thing. We arrived at around 9:30 in the morning and left the store at 2:30 in the afternoon, so we were there for five hours... hahaha...I did not want to leave because I did not find not even one that I had on my wishlist on there sneak peek album and I was enjoying checking out the new ones coming out, but our shopping bags was already full of clothes, there were three shopaholics together who each bought 22 items of clothing. FOREVER 21 make it so fun and crazy that they did not put everything out at the same time, new stocks keep coming every minute, so we were waiting for there stock room for new ones coming. Finally when we calculated our loots that's when its time to stop and we decided to pay already the register lines were very long but it was manageable and fast and enough time for me to think twice on buying some of the items that I just keep grabbing because it was so cheap, mostly are only P99-P159 for the tops and P300-P400 for the dresses, it was really worth it. a very good deal. I wish I took pictures there but I was very busy looking around.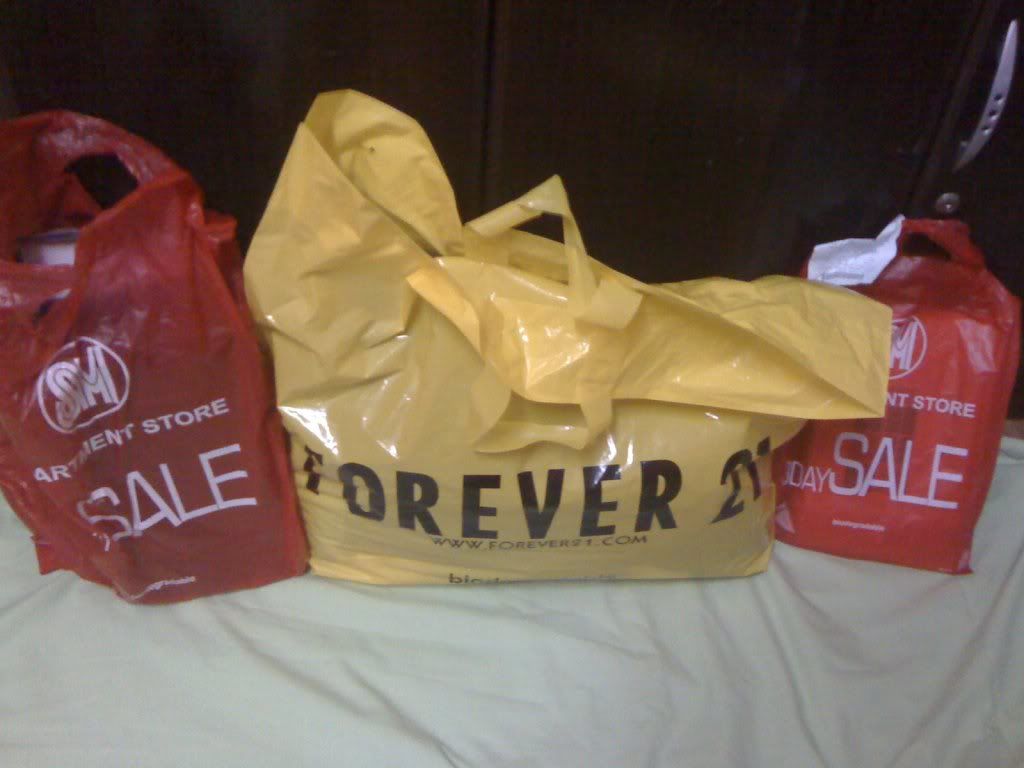 Tip 1)
We buy clothes because we love them but before making your purchase really think about what reasons you are buying it for ... is it because it is cheap? To help you make this decision think about what else your item will go with in your existing wardrobe and then work out how much potential wear you will get out of it.
Tip 2)
Before you start your shopping make a list of potential things you are in need of, this will stop you from side tracking and making naughty, unnecessary purchases.
Tip 3)
Always make sure at the time of purchase to check what the stores return policy is, they all differ and sometimes for sale items the policies are different to the normal ones. This will also save you time because you could potentially get away with buying an item without trying it on rather than queuing at a busy fitting room and then return it at a later date if it's not suitable. Also, some stores won't give full refunds on sale goods so please be aware of that.
Tip 4)
Wear comfortable clothes and shoes, I know you want fashionable always but it is going to be a torture wearing heels. The fitting rooms have really long lines so just wear top and leggings that you can try on the clothes anywhere.
Tip 5)
Beware of Pickpockets-
I heard a lot of girls lost there cellphone, mostly IPHONE 4 and wallet inside the store, so be very extra careful with your things, esp. the valuable ones.
THANK YOU SO MUCH! Michelle and Shay I had a great time shopping with you two. Until next time! ♥